Portable concrete pump is a convenient type pump machine, it has driving wheels, so it is easy to move from site to site. In addition trailer type concrete pump, there is also portable concrete mixer and pump for sale. You can learn more from this page and choose a proper pump machine for your project. With the rapid development of concrete machinery industry, concrete pump have become the new darling of the field of construction machinery industry. In order to meet the needs of concrete users and the market, our company has developed a new portable concrete pump with flexible movement, easy operation, simple maintenance, high efficiency and good quality. In addition, our portable concrete pump for sale consists of portable electric concrete pump and portable diesel powered concrete pump, there is no need to worry about the endurance capacity of rural power grid.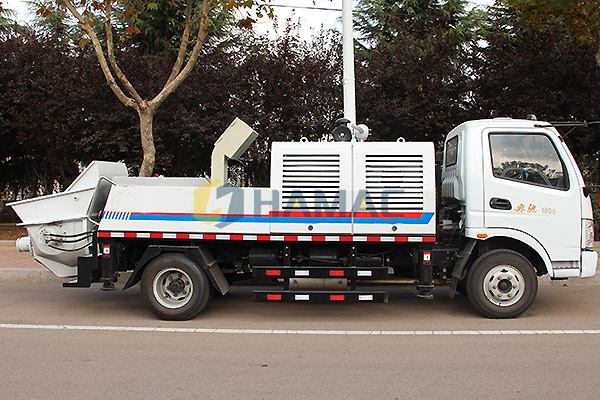 Our portable concrete mixing pump is supported by four legs, which is very flexible to move as mobile concrete pump.
Our swing cylinders are equipped with a cushioning system to reduce the impact on the hydraulic system and increase the service life of our portable concrete pump for sale.
It uses main oil pump from Japan Kawasaki and the global intelligent hydraulic system, which has a strong power and stable performance.
It is one of the best concrete trailer pumps for sale, which uses the piston type to pump concrete to ensure a low failure rate and good product quality.
Our portable concrete pump uses wireless remote control, which is easy to operate for users.
All lubrication systems are supplied directly. As long as the filter of the grease tank does not leak out and do not flow into the impurities, and there is no problem in lubrication. What's more, the performance of push mechanism is very stable, as long as users make a good lubrication job in the valve part , the whole machine will not go wrong.
Our portable concrete pump for sale has high efficiency and evenly mixing, which can greatly shorten the user's duration and improve the progress of the construction project.